Product Specifications
---
SCA-23 SCA Demodulator board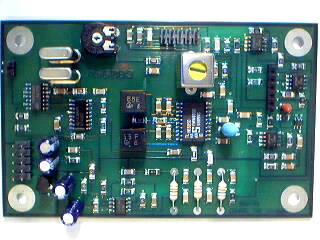 The SCA-23 board is a standard format ComPol board. It is designed for receiving either of two channels of FM subcarrier. The standard board receives 67 and 92 kHz with a deviation of 6 kHz, but the board can be configured for 76 kHz and 12 kHz deviation. Switching frequencies is accomplished by shorting a jumper or through a logic level to one of the pins of the in/out connector. An option block allows the selection of 0, 75, 150 or 225 usecs. A connector is provided to accept the DNR-2, Filter-2 or Filter-3 board.
The most important feature is the muting circuit. It monitors not only the level of the subcarrier, but also the noise present in the system. If, for whatever reason, the signal becomes noisy, it will mute. The control allows the user to select the acceptable amount of noise. It cannot be misset. A position on the option block allow the muting to be bypassed for test purpose. The muting also sets a logic level on the in/out connector.
The standard unit provides a high degree of rejection for RDS/RBDS with only slight degradation of the SCA.
---