Technology
---
Dynamic Noise Reduction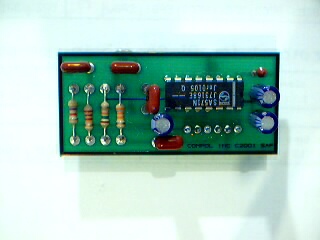 One of the major problems of radio systems is background hiss and noise. This is especially a problem with SCA because noise can come from the main channel, the stereo subcarrier and other subcarriers on the same transmitter. One means of reducing this noise is a system designed for long distance telephone systems called Dynamic Noise Reduction, or simply DNR.
Consider the subcarrier like a river. The bridges are the maximum volume possible and the water is noise. Everything below the water level is lost and everything higher then the bridge is cut off. With SCA the river is very high, so there is very little space for programming. Suppose we flattened or compressed our boat before sending it down the river, and then expanded it at its destination. We could send a much larger boat down the same river. It is the same with signals. If we compress the signal into a smaller package, we can send it through a noisy system and then expand it at the receiver to eliminate the noise and crosstalk normally associated with SCA.
The tiny board shown above can be plugged into the SCA-RL, SCA-RS, and the SCA-TM when utilizing the SCA-23 board. A similar board must be installed into the generator or transmitter. Be aware that DNR will not increase the range of the system. It will only reduce the noise and crosstalk.
The diagram below shows how the signal is improved.
Signal
DNR
Noise
Crosstalk
Voice
Quality
Very strong
Without DNR

With DNR

None

None

Slight

None

Clean

Clean

Very Good

Excellent

Strong
Without DNR

With DNR

Slight

None

Slight

None

Clean

Clean

Good

Very Good

Normal
Without DNR

With DNR

Noticable

None

Masked by noise

None

Occational lost words

Slight raspiness

Acceptable

Good

Weak
Without DNR

With DNR

Objectionable

Noticable

Masked by noise

None

Many lost words

Raspiness

Fair/poor

Acceptable

Fringe
Without DNR

With DNR

Overwhelming

Crackling

Masked by noise

Masked by noise

Unintelligable

Barely Intelligable

Unusable

Unusable
The most important factor is that both transmitter and receiver must be modified to achieve these results. The result is worth the cost and effort.
---